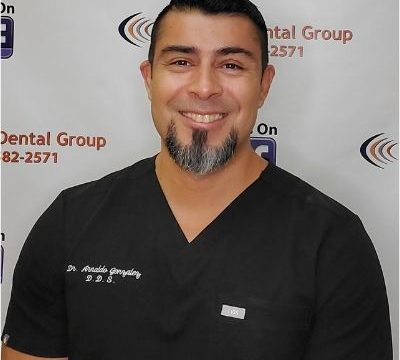 He received his California dental license in 2004. Once licensed he became an associate dentist and continued to master and gain experience as he prepared to open up his own private practice in Simi Valley. He then continued his education at UCLA mastering his cosmetic & restorative techniques as well in Spain for dental implant surgery.  Dr. Gonzalez is a member of the American Dental Association, California Dental Association and Santa Barbara Ventura County Dental Society. Dr Gonzalez has completed many dental programs such as: Aesthetic Continuum, Endodontic continuum, Smile Design, Direct Bonding, Advanced Occlusion, Periodontal Surgery, Implant Residencies.
He continues to educate himself and enjoys learning new techniques and providing his patients with the latest in technology.  He also serves his community by donating his time for charity work.  Aside from dentistry, Dr. Gonzalez enjoys quality time with his family especially his nephews and nieces. He is very family oriented and loves any outdoor activity, such as, hiking, bike riding and long board cruising.  He is an avid healthy eater and enjoys working out.
——————————————————————————————————————————————–
El Doctor González nació en Lima, Perú.  Se titulo de cirujano dentista en la Universidad de San Martin De Porres en el 2000. Después de abrir y establecer su oficina privada decidió mudarse a los Estados Unidos y continuar con su carrera odontológica.  El recibió su licencia de California en el 2004.  Después de ser otorgado el privilegio de practicar odontología, trabajo como asociado en diferentes oficinas para obtener más experiencia y posteriormente abrir su oficina privada en Simi Valley. Siguió estudiando extensivamente en la Universidad de California Los Ángeles, (UCLA) para dominar las técnicas de restauración cosméticas, y España para tratamientos de cirugía. El Dr. González es miembro de la Asociación Dental Americana, La asociación Dental de California y La sociedad de Santa Barbará en el Condado de Ventura.  El Doctor González ha completado muchos programas dentales como: Estética dental, Endodontica, Diseño De La Sonrisa, Rellenos cosméticos, Oclusión Avanzada, Cirugía Periodontal Y Residencia de implantes Dentales.
El continua educándose y le gusta aprender nuevas técnicas para poder proveerle a sus pacientes con lo último en tecnología.  El también dona su tiempo para ayudar a la comunidad con los más necesitados  haciendo obras de caridad. Aparte de su profesión,  le gusta mucho pasar el tiempo con su familia especialmente sus sobrinos y sobrinas. El está muy orientado a la familia y le encantan los deportes al aire libre, como el excursionismo, paseos en bicicleta y tabla larga y disfruta mucho hacer ejercicio.
"Mi primer idioma es el Español y seria un placer atenderlo en su propio idioma."
Dr Arnaldo Gonzalez